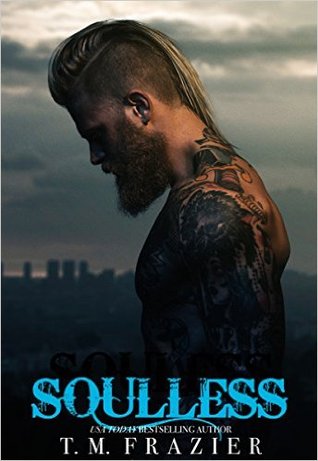 Soulless
by
T.M. Frazier
Series: King #4
Pub. Date: Feb. 17, 2016
Publisher: Self-Pub
Pages: 279
Format: eARC
Source: TRSOR Promotions
My Rating:
Sultry Scale:
The finale to Bear and Thia's epic love story.
I have come to expect one thing from T.M. Frazier, and that is to expect the unexpected. She always throws some crazy twists in that I never see coming. And Soulless was no different, there were definitely some W-T-F eyebrow-raising moments.
As the very succinct blurb tells us, this is the finale to Thia and Bear's love story. Things are picking up where they left off with Bear in jail and Thia holed up with King and Ray.
After the end of
Lawless
, where we got that dirty sneaky scary teaser preview, I expected this book to start a certain way. But it didn't and I was confused. For most of the book, I was like - well, maybe that part got cut out? No worries, it didn't. She just wanted us to worry about it for the whole freaking book! (Sneaky evil author that she is.) Bear and Thia's relationship is solid so now they just have to get over all the crazy obstacles of biker life... like a half-insane biker president of a father who wants to torture and kill you. No biggie, right? In Soulless you will follow along with their raw and gritty story full of extreme situations (one may involve a corpse proposal) on the way to the ultimate HEA. As all the previous books in the series, this one is not for the faint of heart.
I also want to talk about some secondary characters. We get to spend quite a bit of time with a chick in this book who goes by the name of Rage. I don't remember if we met her in previous books, but I don't think so. As much as Preppy made me laugh, this girl absolutely fascinated me. I want to know what is going on in her head and what made her into this weirdo pyro hyperactive killer type. I hope she gets her own book, and the way she exited the story makes me think we will see her in the future. Now, speaking of Preppy, we learn more about him in this book and it is FAH-REAKY! On several fronts, I was reading wide-eyed like WHAT? No! Are you serious?!? But I can't say anything because I really don't want to give spoilers. You will just have to discover those secrets for yourself.
Now back to Bear a/k/a Abel McAdams.
Seriously, Frazier could not have a found a better cover model (Josh Mario John) for Bear. I mean, seriously, check this guy out. He fits the character so perfectly and definitely triggers a few bad boy
fantasies. Seriously. This is how you know I'm serious. I tend to overuse the word... seriously. Sorry, right now I am <seriously> drooling.
I received an advanced copy of this book in exchange for an honest review.
View all my reviews
Prologue
I was mad at the world, at the whiskey for not being strong enough, at the drugs for not lasting long enough, at the fucking whores I banged for not getting me off when it was my fault my dick was fucking useless after a bucket of fucking blow. I went so far as to be pissed at random people on the street for laughing or smiling when I felt like I'd never be able to smile or laugh again.
How fucking
dare
they be move on with their lives like my friend hadn't just died.
I was on the verge of losing what little sanity I had left when I rode out of Logan's Beach and set off to find a place, or places, where I could numb myself against the feelings that followed me from town to town, cheap motel to cheap motel, girl to girl, high to fucking high.
Then, this pink haired girl from the past came barreling into my life and it was like for the first time, I'd found a purpose. A real genuine purpose and not just some shit Chop spewed out as orders that I and every other member of the Beach Bastards took as bible, but a true reason to live again.
Ti was my chance at some sort of real happiness when Lord fucking knows I had no idea what that really was before her. The only glimpses of real genuine happiness I'd ever had came courtesy of Preppy, King, and of course Grace. Like when King tattooed us for the first time and we loved them, even though they were crooked and downright fucking awful. Like when Grace made me my very first birthday cake. Like the time King Prep and I sat at the top of the water tower and thought the world was ours to take.
Because at that time, it was.
Then there was Ti and my new happiness became the first time I saw her smile. The first time I kissed her. The first time I tasted her pussy by the fire. The first time she let me inside of her, shamelessly pushing through her virginity in a frantic need to make her mine.
Because that's what she was.
That's what she would always be.
And I will kill every motherfucker who dares to try and take her from me.
About the Author
T.M. Frazier is a USA TODAY bestselling author. She resides in sunny Southwest Florida with her husband and young daughter. When she's not writing she loves talking to her readers, country music, reading, and traveling. Her debut novel, The Dark Light of Day was published in September of 2013 and when she started writing it she intended for it to be a light beachy romance. Well...it has a beach in it!
Giveaway
Signed Set of Lawless & Soulless