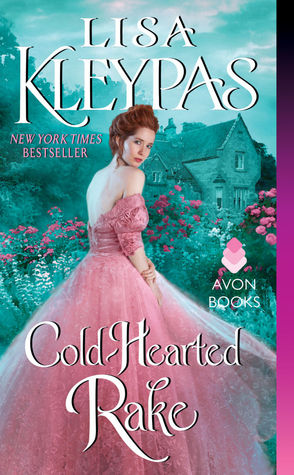 Cold-Hearted Rake
by
Lisa Kleypas
Series: The Ravenels #1
Pub. Date: Oct. 27, 2015
Publisher: Avon / HarperAudio
Narrator: Mary Jane Wells
Length: 11 hrs 3 min
Format: Audiobook
Source: Audible
Challenges: New to Me (series)
My Rating:
Sultry Scale:
A twist of fate...
Devon Ravenel, London's most wickedly charming rake, has just inherited an earldom. But his powerful new rank in society comes with unwanted responsibilities . . . and more than a few surprises. His estate is saddled with debt, and the late earl's three innocent sisters are still occupying the house . . . along with Kathleen, Lady Trenear, a beautiful young widow whose sharp wit and determination are a match for Devon's own.
A clash of wills...
Kathleen knows better than to trust a ruthless scoundrel like Devon. But the fiery attraction between them is impossible to deny—and from the first moment Devon holds her in his arms, he vows to do whatever it takes to possess her. As Kathleen finds herself yielding to his skillfully erotic seduction, only one question remains:
Can she keep from surrendering her heart to the most dangerous man she's ever known?

I am kicking myself at the moment because I didn't write this review within a day or so of reading it. Now some 8 days later, I am trying to remember what I read and how I felt. Seeing as I don't remember what I had for breakfast, this is going to hurt my brain a bit.
Devon Ravenel is a bit of a scoundrel who planned to go through life drinking and wenching and whatever else tickled his fancy. He never thought he would have responsibilities! However, Devon has now inherited an earldom, a crumbling estate, a dowager countess, and twin sisters (cousins) ready for their debut into society. While he was prepared to sell off the estate, something about this group of females makes him reconsider. This requires Devon to get creative in finding a way to finance repairs and upkeep for this ancestral estate, dower his cousins, and get the pretty widow into his bed. You will start off the story hating Devon. He was arrogant and abrasive, often to the point of being cruel. However Devon undergoes a change throughout the course of the story, and by the end he has become a hero you can love.
Kathleen, Lady Trenear, married the previous earl out of duty, and was married to him only three short days before he got himself thrown from a horse and killed. Apparently those three days with the Ravenel temper were enough to traumatize Kathleen, and leave her with a lifetime of guilt for the manner of the earl's death. Kathleen also had a sad upbringing, with uncaring parents who foisted her on someone else. This caused her to shut down emotionally and project an Ice Queen persona to those around her. While I sympathized with Kathleen's plight, she got on my nerves sometimes. She could be quite judgy, self-righteous and know-it-all. She thought she knew what was best for everyone else and thought things should be her way without taking into consideration the other person's wants/needs. I didn't like that at all - it caused some unnecessary strife and heartache for Devon, Helen and Winterborne.
While this is a romance, I didn't feel like it was a grand passion or a lovey dovey romance. Our couple was at odds for the majority of the book. The bickered and sniped at each other, or were cooly civil. By the time they finally got their act together in a permanent way, the story was ending. I would have liked to see them have more time together as a couple, cordial and building the relationship.
I loved the twins. They were quite precocious and entertaining - though their antics seemed to be quite a bit less mature than I would expect from girls of their age. I also liked Weston Ravenel, Devon's brother. It was great to see his florid appearance change to one of vitality with his work at the country estate. I also loved Winterborne and his gruff Welsh demeanor. I really hope that Helen and Winterborne can repair their relationship in the next book without any interference from Kathleen.
I did listen to this one in audio. From what I remember, the narrator did a good job. I don't recall anything standing out as particularly bad or good, so I will say it was a solid performance.


The Ravenels