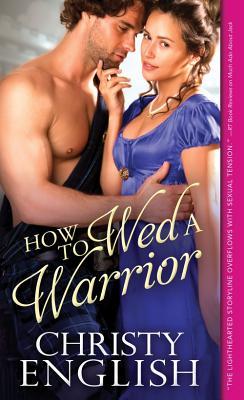 How to Wed a Warrior
by
Christy English
Series: Broadswords and Ballrooms #2
Pub. Date: Feb. 2, 2016
Publisher: Sourcebooks Casablanca
Pages: 352
Format: eARC
Source: NetGalley
My Rating:
Sultry Scale:
When his wild spitfire of a sister makes a scene by drawing her claymore in Hyde Park, Highlander Robert Waters knows something must be done. To forestall the inevitable scandal, he hires widowed Prudence Whittaker to teach his sister how to be a lady - never expecting he'd become hungry for a few lessons of his own.
Outwardly prim, Pru is adept at keeping would-be suitors at bay. She has to if she wants to keep her secret. But all the drab colors and careful manners in the world will not hide her abundant charms from this determined Highlander…
How to Wed a Warrior is a solid addition to the light-hearted Broadswords and Ballrooms series featuring The Waters family, highlanders who have been thrust into the midst of the bon ton.
I liked this installment a bit better than the first,
How to Seduce a Scot
, mainly because I liked our heroine more. After a family scandal that left her all alone, Lady Prudence Farthington is posing as the widow Prudence Whitaker to escape the cut direct and gossip of the ton. Having lived under a horrible aunt's rule for the past 5 years, Pru is seeking employment as a companion. In a stroke of luck, she comes across Mary Elizabeth and Robbie Waters in Hyde Park where the former has just brandished a claymore at Earl Langforth. Diffusing the situation, Pru comes to the notice of the parties, recognized by Earl Langforth and mesmerizing to Robbie Waters. So begins her relationship with the Waters' family. Pru was a likable heroine for the most part, I felt sorry for her need to hide in frumpy gowns and spectacles. I admired her resolve to take care of herself thinking she was all alone in the world. And I hated the bon ton who treated an innocent girly so shabbily. Pru did act a bit foolish at times, running off by herself into danger. But I enjoyed her innocent exploration of her attraction to the charming Robert Waters.
She met his gaze squarely and did not look away. "I'm kissing you, Robbie. Now stay still and let me."
In the first installment of the series, Robert Waters was the gruff one from my memory. He thought his brother, Alex, was crazy for chasing after an English woman. Robbie just wanted to drink his whiskey, get his sister married off, and go back to the Highlands. We see a different side to his personality in this installment, he is funny and charming and a bit of a ladies man. Robbie is immediately attracted to Pru, he can see that she is hiding beauty and curves behind her frumpy gowns and widows hats. He sets out to win her from the start, his intentions ranging from having her as a mistress to making her his wife. I liked Robbie quite a bit. As the youngest brother and a musician, he could have been painted to have a chip on his shoulder - but he is not like that in the least. The whole family has a great camaraderie and clearly loves one another. Robbie is a bit of a scamp and I enjoyed watching him charm Pru and convince her to become his wife (even if he did have to chase after her to do it).
Mary Elizabeth has really stolen the show so far in the series. Not at all ladylike, Mary Elizabeth prefers fishing, riding and fighting to ballrooms, dresses and dancing. I do believe we have met Mary Elizabeth's match in the reclusive duke, and I expect we will see a book for them in the near future. The duke promises to be as interesting as Mary Elizabeth herself. I hope we also see a book for the oldest brother, Ian, who runs the family's fleet of ships.
I received an advanced copy of this book from Sourcebooks Casablanca via NetGalley in exchange for an honest review.
View all my reviews
Broadswords and Ballrooms