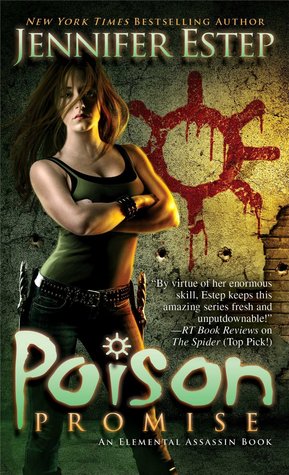 Poison Promise
by
Jennifer Estep
Series: Elemental Assassin #11
Pub. Date: July 22, 2014
Publisher: Pocket Books
Pages: 418
Format: eBook
Source: Purchased
My Rating:
Sultry Scale:
Gin Blanco is hard-nosed, sexy, and lethal. Nicknamed "The Spider," she's a stone elemental assassin who brings her unique mix of magic and tact to every assignment, no matter the target.
There's a new drug on the streets of Ashland, and its name "Burn" sums up the potent effect it has on its users. When one of her restaurant employees is threatened by dealers of the drug, Gin steps in to set things straight...
This installment of the Elemental Assassin series continues along the same vein of people coming out of the woodwork to kill Gin since her defeat of Mab Monroe. It's hard to believe that happened less than a year ago! This time Gin finds herself smack int he middle of a drug kingpin's operation when one of her employees is targeted by a dealer.
Beauregard Benson was an interesting and different villain. I was not expecting for a the drug king of Southtown to be a lanky nerd complete with pocket protector. Though I think that served to make him and his science experiments even more frightening. Ick.
Bria has been after Beau Benson for quite some time, and her quest begins to make her reckless and hurt her relationship with those around her. I lost some respect for Bria in this book. She treated Gin poorly, which was undeserved. It's apparent that Gin's outwardly calm demeanor makes people forget she has feelings - whether she lets them show or not. But Bria does redeem herself for the most part by the end... I just hope she continues to remember what Gin has sacrificed for those she loves.
We finally learn the identity of the mysterious M.M. Monroe in this book, which is setting up a story arc for the next couple of installments I believe, and they should be a doozy. Old enemies are going to come back to haunt Gin through their offspring, even pairing up with that wish-he-were-dead lawyer, Jonah McAllister.
The secondary characters continue to be great, and almost all of them play a part in Poison Promise. We also have a new character come into play who has lots of promise - I think he will be around and playing a big part in the rest of the series. (Not revealing identity so it doesn't spoil anything.)
Overall, this was a good continuation of the series and a reminder of why I love it so much.
View all my reviews


Elemental Assassin Series