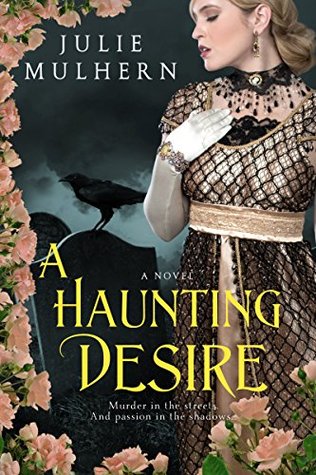 A Haunting Desire
by
Julie Mulhern
Pub. Date: July 28, 2015
Publisher: Entangled Select
Pages: 286
Format: eARC
Source: Netgalley / Publisher
My Rating:
Sultry Scale:
Murder in the streets. And passion in the shadows...
New Orleans, 1902
A killer walks the streets of New Orleans, eviscerating men and leaving them in the streets, and for madam Trula Boudreaux, it's bad for business. Trula needs help but she's not prepared for Zeke Barnes, the charming would-be savior who darkens her doorway-or the yearning he awakens. For while Trula knows well the delights of lust, she avoids love at all costs...
Investigating the killer was one thing, but Zeke can't help but be enchanted by the gorgeous mystery woman who runs an exclusive brothel. Caught between his duty to protect the city and his clear-as-day desire for Trula, Zeke sets about capturing Trula's heart-or at least a place in her bed. But with every moment Trula resists, Zeke falls into greater danger.
For his investigation into the haunted city and madam doesn't just risk his heart but both their lives.
I absolutely loved this book, the setting, the time period, the legends/mythology, all of it. I think that residents/natives/fans of New Orleans will enjoy it as well. For those who are not as familiar with New Orleans and its history, you may not feel as connected to the story. But you should be. We have such an interesting history here, that its worth some research to learn about Storyville, voodoo, Marie Laveau, etc.
The book is set in the early 20th century in Storyville, which was historically the city's red light district. Our heroine is Trula Boudreaux, a madam of the most prestigious brothel in Storyville. While Trula is considerd the most beautiful woman in the city, she is also a tortured heroine from a long line of courtesans who was forced into the life as a girl. I really liked Trula, she had a huge heart and tried to do the right thing and be a good person. She took in strays of all kinds and made life better for those less fortunate. And even though she was a madam, she protected her girls and treated them well. Unfortunately their livelihood is being threatened by a long string of gruesome murders happening in the district. This is how our hero comes into the picture, Zeke Barnes, an investigator of the occult.
Zeke is the tall dark and handsome stranger who inspires lust in Trula for the very first time. He is just as drawn to Trula as she is to him. I did not have as strong of a connection to Zeke - I felt like we didn't know much about him except for what we learned about Bess. Zeke was extremely conflicted about his feelings and future, which lead to him treating Trula as a lesser person sometimes. I hated that he was blind to the effect his careless statements had on her. He also needed to do a little more to redeem himself in my eyes as well.
The mystery that played second fiddle to the romance was interesting and factored in the city's voodoo legends. This aspect of New Orleans history is so interesting that I would have liked to see a little more focus on the voodoo and ghosts, but it was still intriguing and kept me guessing. I didn't guess the killer's identity until almost the very end. The author did a great job bringing the demi-monde to life in Storyville, and the touches of voodoo that were present were spot on from what I have learned while living in New Orleans. I was actually surprised that the author was not a Nola native herself!
I received an advanced copy of this book from Entangled Publishing in exchange for an honest review.
View all my reviews
About the Author