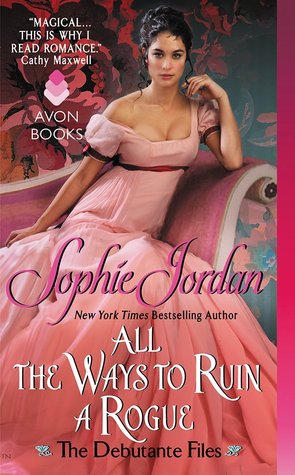 All the Ways to Ruin a Rogue
by
Sophie Jordan
Series: The Debutante Files #2
Pub. Date: July 28, 2015
Publisher: Avon
Pages: 384
Format: eARC
Source: Avon / Edelweiss
My Rating:
Sultry Scale:
There was once a lady who loathed a lord...
Lady Aurelia hasn't always hated Max, Viscount Camden, her brother's best friend. In fact, as a besotted girl, she thrived under his kind attention – sure that he was the most noble and handsome man in the land. Until her young heart discovered what manner of rogue he really was. Now, though she enjoys nothing more than getting on his last nerve, she can't deny Max drives her to distraction—even if she tries to pretend otherwise.
...and a lord who was confounded by a lady.
Max cannot recall a time when Aurelia did not vex him. If she was not his friend's sister, he would stay far away from the infuriating vixen. Unfortunately, they are always thrown together. At parties and family gatherings…she is always there. Infuriating him, tossing punch in his face, driving him mad...until one night, she goes too far and he retaliates in the only way he can: with a kiss that changes everything.
This is the first book that I have read by
Sophie Jordan
, and I have to say that I am an instant fan! I didn't even mind that I was not starting this series at the beginning. I didn't feel lost at all, so if you haven't read the earlier books, don't worry, I think you will be fine.
I am not usually a fan of animosity between the love interests in books, and there was a lot of animosity between Aurelia and Max. It started with Aurelia's tender young heart being broken an only escalated from there. And they certainly could get nasty with one another. It didn't bother me as much in this historical though, whereas if it was a new adult contemporary romance, I probably would have abandoned the book at some point.
I really liked Aurelia - and I can't really articulate why. I just clicked with her for some reason. I even found myself getting weepy a lot in this book - which surprised me because its not an overly emotional story. But that's a sign that I'm hooked and invested in the characters, so I'm not gonna complain. I also liked Max, but I wanted to shake him a lot. He was a bit of an insensitive ass at times, particularly with his cutting remarks to Aurelia in front of that vile widow whats-her-face. But Max was afraid to love because of what happened to his parents - so it just took him a little longer to come around. Luckily he did before it was too late.
I think I am glad that I started the series with this book because I think Aurelia and Max as characters seem a bit more interesting that Will, Violet, Dec and Rosalie. But, who knows, I may feel different once I can go back and read those books.
Overall this was a nice little historical romance that I enjoyed spending the afternoon with. I received an advance copy of this book in exchange for an honest review.
View all my reviews
The Debutante Files