| | |
| --- | --- |
| Series: | Vale of Stars #2 |
| Pub. Date: | July 26, 2016 |
| Publisher: | Self-Pub |
| Length: | 246 pages |
| Source: | Author |
| | |
It's no secret that my favorite fantastical creature is the dragon... so I can't help but love Juliette Cross and her dragon-human hybrid Morgons. (Plus, Juliette is like a super cool
kickass chick
, so I read her other non-dragony stuff too.)
This second installment of the Vale of Stars series has been much anticipated. This is a continuing storyline so I don't recommend you read them out of order... in fact, I recommend that you read the Nightwing series first as the Vale of Stars is a spinoff. Plus those Nightwings are uber yummy alpha males whose beast rides them hard. Why pass that up?
The heroine of Dragon in the Blood is Valla Moonring, sister to Kol Moonring (hero of Waking the Dragon). Valla was raised by her brother to be independent to a fault. Between her brother and the rest of the Morgon Guard, she gets more than her fill of dominant alpha males who think they know what's best. Valla does not want to be mated to one of these alpha males and lose her freedom, so she pushes men away at every turn. Though there has always been something about Conn Rowanflame that has drove her just that extra bit crazy.
It's been a while since I've read the earlier books so I couldn't quite remember the who and what of Conn Rowanflame. I remembered that Conn was a twin, but he seems a bit less fun-loving and reckless than his twin brother, Corbin. They have beautiful deep russet wings to denote their clan and their firedancing abilities. Conn is an alpha male - but he was not over-the-top dominant and bossy as he could have been, which was a good thing for Valla and her self-reliant nature.
The relationship between these two was a bit of a slow burn. Conn was burning with soulfire for Valla, but she was pushing him away as much as she reeled him in. I'm not a huge fan of the heroines that push the hero away, so I got impatient with her towards the end. But overall I liked seeing them grow closer together (when Valla allowed it).
While this wasn't my favorite romance of the two series thus far... I am extremely impressed at Juliette's world-building and development of the storyline. There is a new prophecy that comes out in this book involving the Blood King and the Vale of Stars - and everything is starting to tie together nicely. I loved the new characters that were introduced in the form of Bastien's Bastards and the two very rare Bloodback sisters. I am hoping that Bastien Silverback gets a book - he seems like a fun and interesting Morgon with a good story to tell. The plot that has been hatched by one of the Bloodback sisters is very intriguing and I look forward to seeing how it unfolds going forward.
I received an advanced copy of this book from the author in exchange for an honest review.
About the Author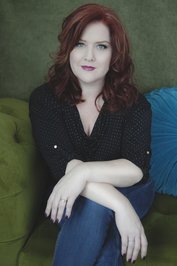 Juliette lives in lush, moss-laden Louisiana where she lives with her husband, four kids, and black lab, Kona. Multi-published author of paranormal and urban fantasy romance, she loves reading and writing brooding characters, mysterious settings, persevering heroines, and dark, sexy heroes. From the moment she read JANE EYRE as a teenager, she fell in love with the Gothic romance. Even then, she not only longed to read more novels set in Gothic worlds, she wanted to create her own.
You can discover more of Juliette and her books on her website.
Vale of Stars